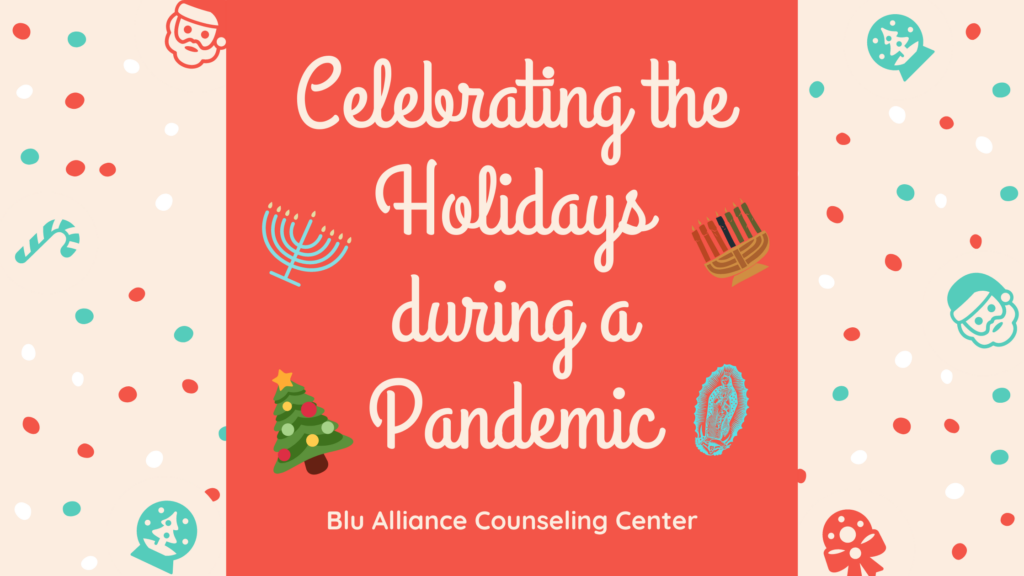 Hi everyone! This week we are experiencing some major holidays and I wanted to talk about how celebrating these important events in our lives are going to look different due to the COVID-19 pandemic. We here at Blu Alliance have been looking at how the holidays are being impacted by here in the United States by COVID-19 especially here in California where certain counties have had to go into lockdown due to lack of available ICU beds to treat those who are in critical conditions.
The two major holidays occurring this week is Christmas Eve, and Christmas from Dec. 24-25, and Kwanzaa which is from Dec. 26-Jan. 1 2021. In light of the pandemic many traditions such as going to large group services such as church and other religious gatherings are being done virtually and/or drive-ins to provide a safer way of attending these highly important services. We here at Blu Alliance know that finding ideas, resources, and events that are servicing the safest ways to conduct these upcoming holiday celebrations can be a lot of work. So we have gathered various lists of events and ideas to celebrate these upcoming holidays in the safest ways possible during this pandemic. You can find them below enjoy!
The CDC Tips and Recommendations on Celebrating Safely
The CDC has created a list of recommendations on how to create the safest ways to celebrate these upcoming winter holidays. This includes conducting events virtually and working on doing activities within your designated home pod so that you can create opportunities to feel the holiday spirit during these unprecedented times.
Host a virtual celebration with friends and family
Schedule a time to eat a meal together virtually and have people show their main dish, vegetable, or dessert.
Host a virtual "ugly" holiday sweater contest.
Gather virtually for a gift exchange or activity
Schedule a time to meet virtually to open gifts together.
Build gingerbread houses, decorate cookies, or make holiday crafts and decorations.
Decorate for the season
Decorate or create a winter holiday scene and take family photos at home.
Drive or walk around your community to look at decorations from a safe distance or drive through a local holiday light display.
Make holiday crafts, cards, or cookies to send or deliver to family, friends, and neighbors in a way that does not involve contact with others, such as leaving them at the door.
Throw a virtual dance party
For winter holidays that traditionally include music and dance, set aside time with loved ones to meet online to share music and dance.
Collaborate with friends and family on a holiday playlist.
Enjoy the winter weather, if you live somewhere with snow
Hold a snowman or snow angel contest with neighbors or friends in your community.
Build a snow fort or other snow structure.
Volunteer to help others in need
Reach out to your local community service organizations to get involved and give back. Make sure to ask about their safety precautions in advance.
Find virtual opportunities to contribute.
Attend a religious ceremony
Visit the communities of faith webpage for information on how best to practice their beliefs while keeping their staff and congregations safe.
Attending virtual services is the safest way to worship.
If your holiday traditions usually involve visiting Santa Claus, check local opportunities and know requirements for visiting safely.
Schedule a virtual visit to the North Pole.
Visit Santa Claus outside while a wearing mask and staying 6 feet apart.
If Santa Claus is staying indoors, he will likely be taking safety measures; you may be able to visit him through a plexiglass safety window.
The CDC has created a flyer to use and send to those who are creating their own ways of celebrating virtually as well as safely attending social distance events. We here at Blu Alliance have made the flyer available for to be seen and downloaded so that you at home can bring up this PDF to use or send as needed.
consider_other_winter_holiday_activities-1

Kwanzaa Virtual Celebrations

The Los Angeles Times has a list of virtual events that are Los Angeles based that honor and celebrate Kwanzaa's seven principles which are rooted in the sacred teachings of Asante and Zulus harvest celebrations which are unity, self-determination, collective work and responsibility, cooperative economics, purpose, creativity and faith. We have provided the list below!
"Virtual Kwanzaa Celebration"
The Robey Theatre Company celebrates the holiday with a live variety show on the company's YouTube page.
"The Hip Hop Nutcracker"
This contemporary take on the holiday classic was recorded live at the New Jersey Performing Arts Center with a dozen dancers, a DJ, a violinist and MC Kurtis Blow, who opens the show. $25. Nightly streams, with matinees on weekends and holidays, through Jan. 3. Click here for the full schedule.
Attend a Black film festival
Enjoy works by Black filmmakers who support the principles of the celebration as the fourth Kwanzaa International Film Festival, based in Harlem, New York, moves online. This year's lineup includes films, shorts, documentaries and special events. All-access pass, $30.
Craft with kids
The California African American Museum kicks off the first day of Kwanzaa with a prerecorded family workshop with artist Sharon Barnes, who will demonstrate how to make a one-of-a-kind memory book. Suggested materials: cardboard, construction paper, hole punch, white glue, twine or ribbon, printed photos, drawings, small items, and other decorations. 2 to 4 p.m. Dec. 26. Free. Reservations required.
Order takeout from Black-owned restaurants
Honor Kwanzaa by ordering takeout from one of your favorite Black-owned restaurants. The Times' Food section has compiled a list of more than 200 food businesses in Los Angeles, and the options are tempting: pizzas and cast iron chicken from Post & Beam in South L.A., gumbo and po'boys from Sal's Gumbo Shop in Long Beach, fried catfish and candied yams from Annie's Soul Delicious in the Mid-Wilshire district and much, much more.
Participate in a Kwanzaa virtual 5K
Fit, Black and Educated in San Diego hosts a virtual 5K run to support the nonprofit's Literacy Project and Giving Bag initiative for the homeless. Registration is $30. To join: Register for the Virtual 5K and complete a 5K (3.1 miles) run/walk/bike/skate/cardio machine any time between Dec. 26- Jan. 1 (while observing social distancing).
Take a Paul R. Williams self-driven tour
The works of African American architect Paul Revere Williams are diverse and far-ranging, from iconic landmarks such as the LAX Theme Building, the Beverly Hills Hotel, and the First African Methodist Episcopal Church to Spanish Colonial and midcentury modern residential homes. Williams designed grand homes for celebrities, but his designs for the less famous, such as the Modernist home pictured above, are just as compelling. Plan your own self-driving tour during Kwanzaa when traffic is light. The Los Angeles Conservancy website, which lists many of his projects, is a good place to start.
Storytime with kids
Baba the Storyteller will present the principles and practices of Kwanzaa with an Aquarium Pacific Pals puppet as emcee in this free virtual event at the Aquarium of the Pacific. The get-together will stream on the aquarium's website from 10 to 10:20 a.m. Dec. 26 and will be viewable on-demand afterward.
View a Nativity scene honoring Black Americans
Claremont United Methodist Church, known for mounting provocative Nativity scenes tied to current events, has installed one depicting a Black Lives Matter protest. "Covid is going to pass, but the struggle [of] our brothers and sisters, Black Americans, is going to continue for a long time," said Genaro Cordova, the church's facilities engineer who constructed the set. The scene is viewable from the church at 211 W. Foothill Drive.
"As Always Blu Specializes In You"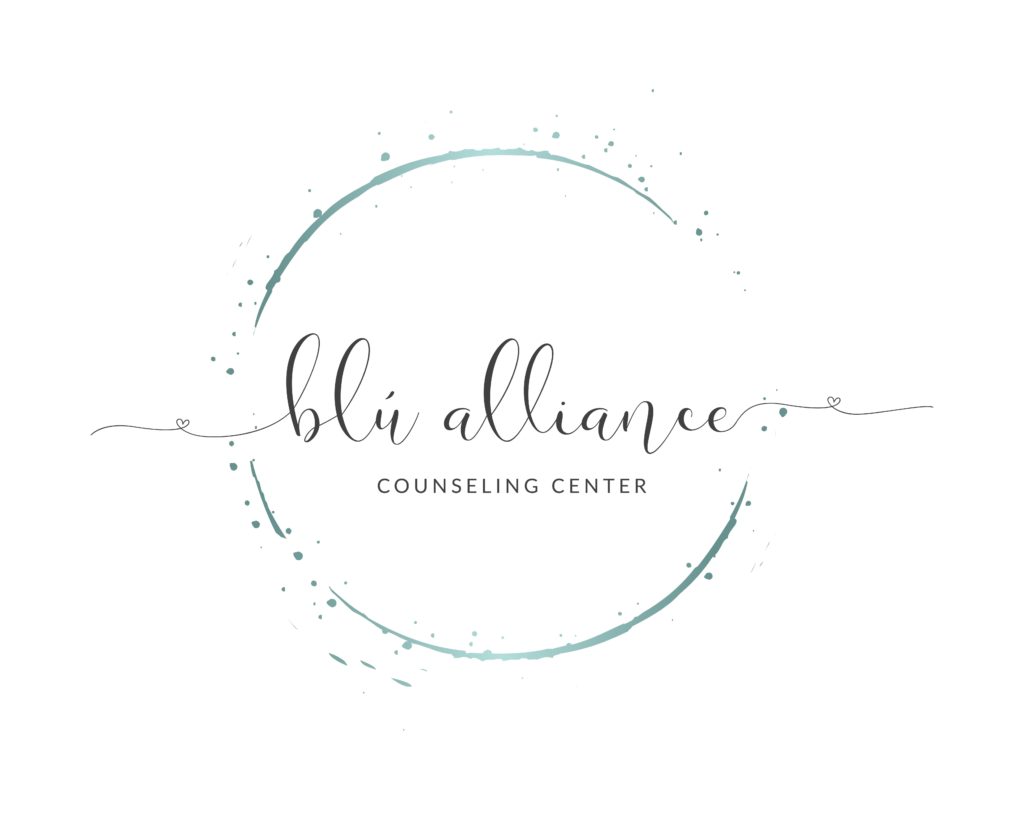 I am the Group Coordinator at Blu Alliance Counseling Center. I contribute to the Blu Alliance Blog where my focus is providing information about therapy in a way that is honest, and relatable. My educational background includes a BA in Psychology from Cal State Los Angeles, and an MA in Marriage and Family Therapy from Alliant International University.