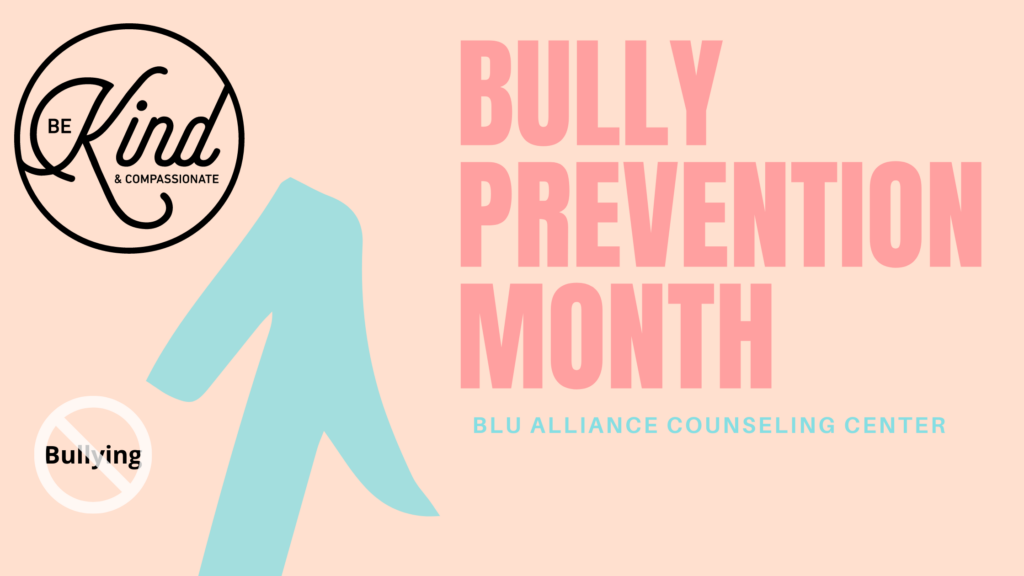 Hi everyone! This month is Bullying Prevention Month which we at Blu Alliance have found to be a very relevant topic to our society today. Bullying is a form of youth violence, and an adverse childhood experience which means that it isn't limited to physical attacks between youth, but it includes verbal and relationship harm as well. Pre COVID-19 there was a strong focus on bullying that was happening physically in the school setting, but now Post COVID-19 children, and young adults are having to attend school virtually.
This shift of the school, and social experience has an impact on the forms of bullying that are committed between youth. A larger focus now has to be on the lookout for online bullying also known as "cyberbullying" where a young person can be a perpetrator, victim, or both (bullying/victim). Children, teens, and young adults are now having access to technology on a larger scale then any previous generation before them due to the precautions the whole world is taking due to the COVID-19 pandemic. There are now laptops, tablets, and phones which have access to internet so that the youth who are using them have access not only to their school institutions, but to each other. So now we at Blu Alliance have put together information on bullying, and bullying prevention.
The CDC and the Department of Education in 2014 defined bullying as having three core elements that are unwanted aggressive behavior, observed or perceived power imbalance, and repetition or likelihood of repetition of bullying behaviors. These behaviors can be inflicted onto the victim of bullying by a youth, or a group of youths who are not siblings, or current dating partners to the victim.
Common Types of Bullying
Physical such as hitting, kicking, and tripping
Verbal including name-calling and teasing
Relational/social such as spreading rumors and leaving out of the group
Damage to property of the victim
Cyberbullying when bullying is committed through technological devices such as mean texts, emails, rumor's posted on emails or social networking sites, embarrassing photos, videos, website, or even creating fake profiles.
Effects of Bullying
The effects bullying has afterwards for the victim is that it can result in a physical injury, social, and emotional distress, self-harm, and in some cases even death. If you, or someone you know is having suicidal thoughts you can call the National Suicide Prevention Lifeline which provides 24/7, free and confidential support for people in distress, prevention and crisis resources for you or your loved ones, and best practices for professionals. 1-800-273-8255.
In regards to the persons mental health there is an increase risk of depression, anxiety, chronic stress, and sleep disturbance. There is also the effect of performance in various areas of their lives such as academics with outcomes such as lower academic achievement, and possibly dropping out of school.
The long-term effects of bullying can include an increased risk of substance abuse, academic challenges/problems, and a continuing cycle of experiencing violence later in their adolescence and adulthood. Those most at risk of long-term issues in regards to mental health and behavioral problems are youth who bully others but are also bullied themselves.
Bully Prevention
Pacer's National Bullying Prevention Center has provided some tips for parents and loved ones can do when they suspect, and/or know their child is being bullied and/or is bullying others.
Positive Role Modeling

This can include peaceful conflict resolution, showing healthy friendships, and appropriate responses to negative actions taken by others like voicing your disagreement with what is happening.

Mentoring

If you have a family member, or friends child who is being bullied you can offer a compassionate listening ear, a safe space where they can express how the experiences of bullying has affected them, and to support/inform the parents and school system of what is happening so that they can work as a team to resolve the issue. You can also offer role playing on how to deal with a bully, or inform a person in authority of what is happening.

Age Appropriate Approaches to Kindness, Acceptance, and Inclusion

Teaching children how to show these actions, and behaviors can make a big impact on how children, and teens treat each other in the classroom, playground, home, and in their community.
Parents whose child is experiencing being bullied have most often experienced an emotional first response this is then followed by sense of wanting the most effective and action-orientated response. A good first step is building positive relationships between the school, parents and students that can then implement a faster timeline of actions and have formulated plan in place.
Cyberbullying Prevention
Pacer has tips of how to start the conversation of cyberbullying with your child, and an explanation of how the internet can be used for both good and bad interactions between peers. While the internet can be a positive place for students to interact, the rise of technology has also led to a new and serious form of bullying, known as cyberbullying. Cyberbullying is defined as the use of technology to send or share mean, threatening, or embarrassing messages or images to or about someone. It might be in a text, email, message, on social media, or in a post online. Just as it's important to talk with your child about bullying, it's important to discuss cyberbullying as soon as your child starts to interact online. Discuss what information is and isn't appropriate to share online, as well as establishing cyber rules together, such as what sites your child will be allowed to use and hours of usage. During this conversation, explain that if something hurtful is shared online (via words, images, videos, etc.), it counts as cyberbullying, and it's important that you know about it. Together, you can strategize a plan to respond to the cyberbullying and keep kids safe online.
Changing My Childs Bullying Behavior
Parents who are having to work with their child on bullying behavior can find the power of language to be so essential. So if you are hearing terms such as my child is a Bully instead redirect that language to be my child is showing bullying behavior. This lets the child knows its a behavior they are doing and not who they are. The next step is informing the child that behaviors are totally capable of being changed. The child then need to understand the impact their behavior has had on others while recognizing the hurt they have caused. The guidance they are receiving from an adult can redirect the bullying behavior to an understanding of differences while also practicing kindness and inclusion.
Ways Professionals can Support Bullying Prevention
The CDC has created a whole handbook "A Comprehensive Technical Package for the Prevention of Youth Violence and Associated Risk Behaviors" which can be downloaded at the link above, but we here at Blu Alliance have put some of their recommendations down below to make it a bit easier. These recommendations are primarily aimed at professionals such as psychotherapists, and social workers.
Promote family environments that support healthy development

Early childhood home visitation
Parenting skill and family relationship programs
Provide quality education early in life

Preschool enrichment with family engagement

Strengthen youth's skills

Universal school-based programs

Connect youth to caring adults and activities

Mentoring programs
After-school programs

Create protective community environments

Modify the physical and social environment
Reduce exposure to community-level risks
Street outreach and community norm change

Intervene to lessen harms and prevent future risk

Treatment to lessen the harms of violence exposures
Treatment to prevent problem behavior and further involvement in violence
Hospital-community partnerships
I am the Group Coordinator at Blu Alliance Counseling Center. I contribute to the Blu Alliance Blog where my focus is providing information about therapy in a way that is honest, and relatable. My educational background includes a BA in Psychology from Cal State Los Angeles, and an MA in Marriage and Family Therapy from Alliant International University.