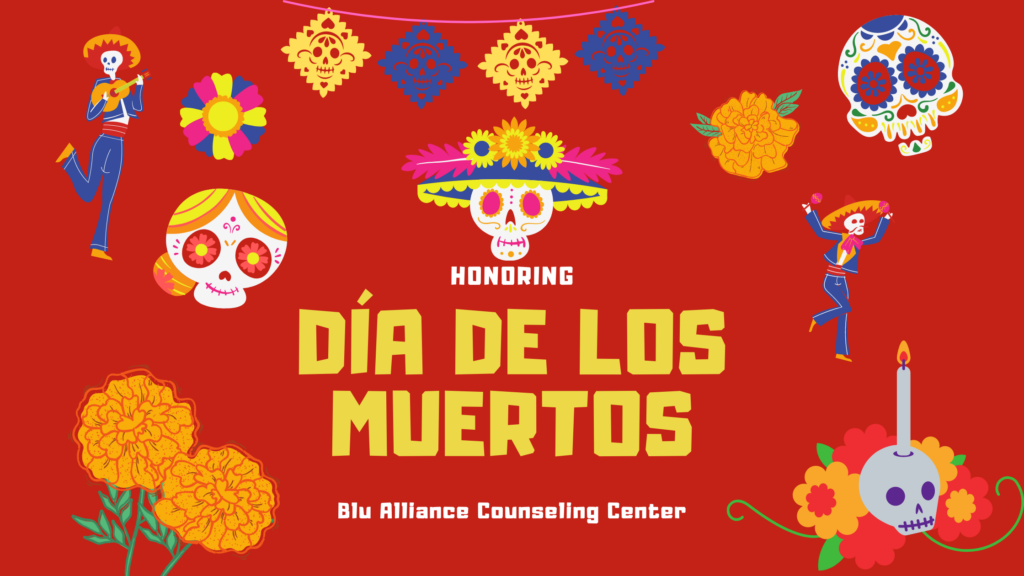 Hi everyone! We here at Blu Alliance love the beginning of November because its during this time we get to celebrate Día de los Muertos with the rest of our Latinx community on November 1st & 2nd. I identify as a Latinx gay male so it is during this time of the year I really get to embrace my Mexican heritage. Día de los Muertos is filled with so many beautiful traditions that we use to celebrate/honor/remember the dead, and that's why here in the United States of America Día de los Muertos translates to "The Day of the Dead". The history of Día de los Muertos is so beautiful and filled with moments where it can truly only be described like poetry with the effort and perseverance of our ancestors to keep our traditions alive in the face of oppression. So lets start with a short little history lesson about our lovely Día de los Muertos!
The story begins with tragedy as a man named Hernan Cortes a Spanish conquistador in 1519 landed in Mexico and brought war to the country attacking the indigenous within the Aztec empire especially in Cholula where he killed 6,000 people at the base of the largest pyramid in the world. This led to two years of battles where eventually the colonizers from Spain and the Catholic Church overtook the indigenous in the Americas and ruled for three centuries.
During this time there was continuous brutal attacks against the indigenous who didn't take up the ways of Christianity and abandon their culture. It got to the point they had to flee from what they call "slave raiding parties" whom were Spanish conquistadores who would burn the land and attack/kill those who didn't outwardly show they were Christian. In an agreement made by Cabeza de Vaca the indigenous would be able to rebuild their burned down homes as long as there was one church built in the towns with the indigenous having to appear that they converted to Christianity by greeting visiting Christians with crosses in their hands.
This agreement required the indigenous to tear down their stone altars to their nature's gods, and convert the bigger temples to be Christian churches. Although they had to appear to take on their oppressors religion, and culture the indigenous were able to carry on their own traditions like El Día de los Muertos at times in plain sight by displaying calacas which is the images/forms of skeletons on Mixtec vases. The strength of Día de los Muertos as a tradition could not be suppressed completely and the Catholic church was only able to confine the celebration to two days out of the year which is on Nov 1st & 2nd which for the church was considered on All Saints Day and All Souls Day. Once the Spanish were expelled from Mexico in 1821 the people were free to fully celebrate Día de los Muertos as they saw fit which allowed the celebration to be bigger and spread throughout land.
In the 80s and 90s the influence of the United States of America was strongly felt with its own holiday of Halloween so in response to it that has lasted to this day is to display the beautiful traditions of Día de los Muertos such as the ofrenda. The ofrenda is an altar built to honor loves ones and children who are deceased but never forgotten. These traditions put in display in public spaces are done with the goal in mind of keeping the traditions of Día de los Muertos alive and vibrant.
The history of Día de los Muertos is so beautiful and shows the perseverance of the indigenous and our ancestors in the face of oppression and hardship. So its good to keep in mind what challenges our people have faced to celebrate Día de los Muertos as we are currently facing the limitations in place due to COVID-19 pandemic. We here at Blu Alliance have put together some resources, tips, and ideas on how to celebrate/honor Día de los Muertos in as safe a way as possible which can be found down below.
CDC

The CDC has put together several safer, alternative options to celebrate Día de los Muertos. If you may have COVID-19 or you may have been exposed to someone with COVID-19, you should not participate in in-person Día de los Muertos festivities. The CDC has categorized these risks for each type of activity at lower, moderate, and high.
Lower risk activities
These lower risk activities can be safe alternatives:
Preparing traditional family recipes for family and neighbors, especially those at higher risk of severe illness from COVID-19, and delivering them in a way that doesn't involve contact with others
Playing music in your home that your deceased loved ones enjoyed
Making and decorating masks or making an altar for the deceased
Setting out pillows and blankets in your home for the deceased
Joining a virtual get-together celebration
Moderate risk activities
Having a small group outdoor, open-air parade where people are distanced more than 6 feet apart
Visiting and decorating graves of loved ones with household members only and keeping more than 6 feet away from others who may be in the area
Hosting or attending a small dinner with local family and friends outdoors where people are distanced more than 6 feet part
Lower your risk by following CDC's recommendations on hosting gatherings or cook-outs.
Higher risk activities
Avoid these higher risk activities to help prevent the spread of the virus that causes COVID-19:
Attending large indoor celebrations with singing or chanting
Participating in crowded indoor gatherings or events
Having a large dinner party with people from different households coming from different geographic locations
Using alcohol or drugs, which can cloud judgement and increase risky behaviors
LAIST
The LAIST has put together virtual, social distancing, and drive-in events to celebrate Dia de los Muertos online and/or in the LA area. This can be found below 🙂
Monday, Oct. 26 – Monday, Nov. 2
Los Muertos 5K/10K
The popular race through Olvera Street and downtown L.A. goes virtual this year, with participants running/walking on their own time and and at their own pace during the week leading up to Día de los Muertos. All registrants receive a medal, a shirt and a running bib. Premium running packages available.
COST: $42 – $57; MORE INFO
Saturday, Oct. 31 – Monday, Nov. 2
La Catrina Sculptures
Third Street Promenade and Santa Monica Pier, Santa Monica
Los Angeles-based artist Ricardo Soltero has created sculptures of La Catrina, one of Día de los Muertos' most recognizable figures. On view at nine locations along the promenade and pier, the works range up to 14 feet in height and wear brightly colored traditional Mexican attire.
COST: FREE; MORE INFO
Sunday, Nov. 1; 4 p.m.
SHG's 47th Annual Día de los Muertos
Self Help Graphics & Art concludes its month-long Ofrendas 2020 exhibition and commemoration of the holiday with a virtual celebration on its YouTube channel. Watch live performances by Ceci Bastida, Tropa Magica and Katzù Oso, curated by alt-Latin music club The Paramount. The event will be co-hosted by musician and scholar Martha Gonzalez and actor Annie Gonzalez.
COST: FREE; MORE INFO
Through Sunday, Nov. 1
The Museum of Latin American Art's Día de los Muertos
MOLAA celebrates this Día de los Muertos with the theme "A Long Journey." Chief Curator Gabriela Urtiaga has organized an online exhibition of selected artworks from the MOLAA collection featuring artists Lourdes Almeida, Ismael Vargas and Meredith Paul. A bunch of events happen online including Hot Chocolate & Pan de Muerto with Gusto Bread on Monday, Oct. 26 and a bilingual Nicho Workshop with Edgar-Arturo Camacho-González on Thursday, Oct. 29. The celebration closes with the unveiling of the Virtual Community Ofrenda with artist leunam nauj on Sunday, Nov. 1.
COST: FREE; MORE INFO
Sunday, Nov. 1; 1 – 3 p.m.
Día de los Muertos Drive-Thru Kids Art Kit Kiosk
The Muckenthaler Cultural Center1201 W. Malvern Ave, Fullerton
Drive to, and through, the Muck's parking lot to pick up art activities for kids. Face masks are required during pickup. Supplies are limited.
COST: FREE; MORE INFO
Sunday, Nov. 1; 7 p.m.
Coco: Free Drive-In Screening
First American Title Company (Parking Structure Rooftop)
8 First American Way, Santa Ana
The Viva La Vida festival and The Frida Cinema team up for this screening of the 2017 animated film. Watch a young musician's adventures in the land of the dead as he discovers the meaning of family and unconditional love. This screening requires you to have an FM radio so you can hear the audio. Food trucks will be available onsite to purchase snacks. Face masks and social distancing protocols required.
COST: FREE with registration; MORE INFO
Sunday, Nov. 1; 12 – 2 p.m.
Forest Lawn's Día de los Muertos
This year's virtual celebration includes remembrances with marigolds, live and larger-than-life sculpture Catrinas, dancing by Ballet Folklorico Internacional, music by Mariachi Juvenil Herencia Mexicana, a Bob Baker Marionette Theater performance, bilingual prayers, a spoken word performance and a brightly colored ofrenda. Watch live on Forest Lawn's Facebook page, where it will also be streamable after the event.
COST: FREE; MORE INFO
Monday, Nov. 2; 6 p.m.
SPARC's 18th annual Día de los Muertos
The Social and Public Art Resource Center presents a virtual celebration and ritual via Zoom. The organization recognizes that this year has been one of loss and transition. The public is invited to contribute to a virtual community altar by uploading a photo of a loved one they want to honor. The altar will be unveiled on Monday, and Martha Ramirez-Oropeza will lead a traditional invocation ritual in Nahuatl and Spanish, inviting the spirits to join the celebration.
COST: FREE; MORE INFO
Monday, Nov. 2; 7 p.m.
Lo Único Seguro Es Que Nos Vamos A Morir (The Only Certain Thing is that We are Going to Die)
Los Angeles Contemporary Exhibitions presents a performative installation by artist Carmina Escobar about the cycle of life and death. Escobar will build a communal altar in LACE's storefront with objects and offerings from fellow musicians, artists and friends. She has also started a processional recording of longtime collaborators Maqueos Music Oaxacan Brass Filharmonic by visiting the 28 band members and recording them from outside of their homes. This time-streched sound piece will accompany her ritual performance on Monday night, which will be livestreamed on LACE's Youtube Channel.
COST: FREE with registration; MORE INFO
Monday, Nov. 2; 6 p.m. PT
24th Street Theatre's Annual Dia de los Muertos Celebration
The theater's annual block party moves online. Hosted by Gabriel Romero (Archer, Los Beltrán), the virtual festival features master conguero, bandleader and vocalist Louie Cruz Beltran and his ensemble; Xochi Flores, Cesar Castro and their Son Jarocho-Chicano group, Cambalache; Aztec dance troupe Huitzilopochtli; ballet folklórico Sol de Fuego; and Emmy and Golden Globe award-winning actor Edward James Olmos. The presentation also includes a screening of the short film Las Instrucciones and virtual workshops on how to build a Day of the Dead altar and face-painting. Watch on Facebook or YouTube.
COST: FREE; MORE INFO
Monday, Nov. 2; 5 – 6:30 p.m.
LAPL Día de Muertos Family Celebration
The Los Angeles Public Library celebrates Día de Muertos en Español and English. Aimed at kids and teens, the event stars the Lucky Band and Josué Cuentacuentos y La Catrina. Listen to stories and music then take part in creating crafts. The festivities will be streamed live on Facebook and YouTube.
COST: FREE; MORE INFO
Through Monday, Nov. 2
FIGat7th Dîa de los Muertos Altar
FIGat7th – Lower Level M1
735 S. Figueroa St., downtown L.A.
Dalila Paola Mendez in partnership with Self Help Graphics created an altar to honor the elders, community heroes and lives lost from COVID-19 and racial injustice. It also honors public figures who were lost this year including George Floyd, Breonna Taylor, Kobe and Gianna Bryant, Ruth Bader Ginsburg and John Lewis.
COST: FREE; MORE INFO
Through Wednesday, Nov. 4; 5 a.m. – 10 p.m.
Día de los Muertos Community Altars and Audio Tours
Grand Park (Grand Avenue to North Broadway), downtown L.A.
Guests can experience and learn about the religious and cultural traditions of Día de los Muertos while visiting 11 altars located throughout Grand Park. Ten of the altars were done by artists and community partners. They represent the losses and causes of this past year.The 11th is the annual Community Altar created by Maestra Ofelia Esparza and her family. Stories and audio guides are available to complement the altar viewing. Visitors can access the audio through Grand Park's Mixcloud and YouTube channels. Because of COVID-19, people are asked not to gather or linger in large groups, leave their own ofrendas or touch the Community Altar.
COST: FREE; MORE INFO
Through Wednesday, Nov. 4; 5 a.m. – 10 p.m.
Día de los Muertos Public Art Installation, including Digital Ofrendas
The Music Center Plaza
135 N. Grand Ave., downtown L.A.
Artist Maricela Sosa's papel picados welcome visitors. Around the plaza, guests will encounter digital ofrendas and public art installations with personal health and wellness messages. Photos of lost loved ones will be shown on the plaza's two large LED screens. The installation also features two photo exhibitions: Healing Sanctuaries, curated by Dancing Diaspora Collective; and Soul Survivors, curated by Khalid Jefferson, with photography by Nailah Howze, Damien Carter and Andrew Quesada. The Music Center's audio guides are available on Mixcloud with additional details about the art and altars.
COST: FREE; MORE INFO
"As Always Blu Specializes In You"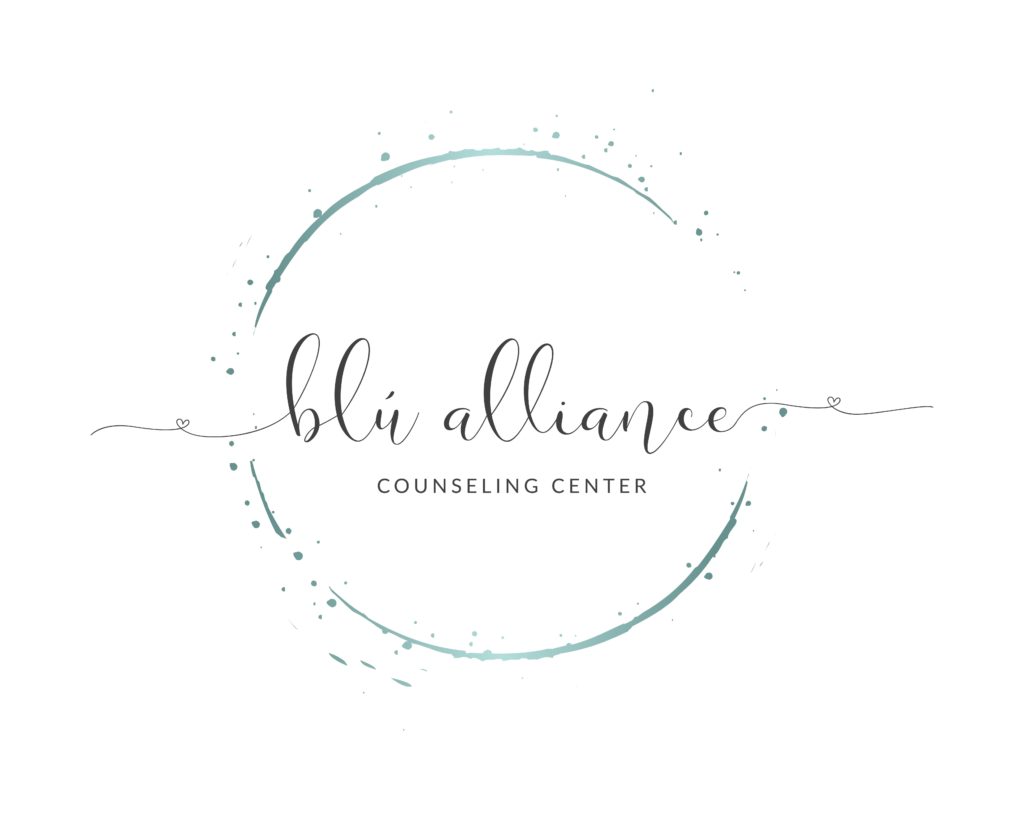 I am the Group Coordinator at Blu Alliance Counseling Center. I contribute to the Blu Alliance Blog where my focus is providing information about therapy in a way that is honest, and relatable. My educational background includes a BA in Psychology from Cal State Los Angeles, and an MA in Marriage and Family Therapy from Alliant International University.